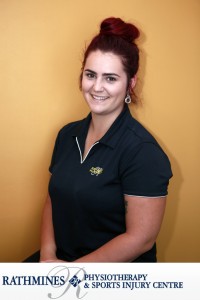 Caitlin graduated from Newcastle TAFE, Tighes Hill campus with Diploma of Remedial Massage in 2012. She has since worked in small home based practices, and is still currently working in a corporate environment at Maitland and Toronto Private Hospitals for the Health Care Service. Caitlin massages a variety of staff from the hospitals from administration staff to surgeons.
Caitlin joined Rathmines Physiotherapy and Sports Injury Centre in March 2015. Caitlin is an active member of AAMT since 2015.
In her spare time Caitlin enjoys staying active by horse riding. She and her partner Josh break and train horses in their spare time. Caitlin enjoys show jumping and cross country. Caitlin also enjoys training for javelin, though she just does this for fun.
Caitlin hopes to further her career in massage with special focus in
 Sports injury
Massage for recovery
Gluteal and hip muscles
Qualifications & Affiliations
Diploma of Remedial Massage – TAFE NSW
Member of Australian Association of Massage Therapists
Registered Health Services Provider with all other major health funds except Medibank Private