Back To Meet Our Team Page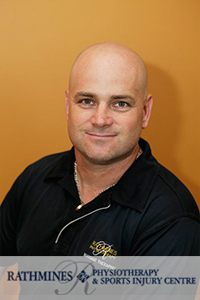 Principal Remedial Massage Therapist, Exercise Therapist
Garry Lavis graduated from TAFE NSW, Tighes Hill Campus in 2002, with a Diploma in Health Science (Remedial Massage).
Garry has owned Rathmines Physiotherapy & Sports Injury Centre since 2002 with his wife Eileen Lavis. In that time Garry has introduced and established the remedial massage therapy component of the business.
Garry's keen interest in exercise developed after playing professional rugby league and competing in the Subaru Triathlon Series in Canada. This interest in fitness has resulted in him graduating from TAFE NSW, Tighes Hill Campus in 2007, with a Certificate IV in Fitness. Since that time Garry has been fundamental in further developing the fitness component of the practice particularly with regards to exercise for rehabilitation and hydrotherapy.
Garry was the New South Wales State Vice President of The Australian Association of Massage Therapists (AAMT) and was on the National board of directors from 2002-2005 and rejoined the board in 2008 becoming the current National President of AAMT in 2009. Garry is a facilitator for the Hunter Regional Lectures for Remedial Massage Therapists. Garry is also working to initiate the process of massage therapists to become fully registered health professionals. Garry continues to serve as the Conference Committee Chairman and has a keen desire to promote Remedial Massage Therapy as an evidence based legitimate therapy.
Garry is an expert witness for the Department of Public Prosecutions.
Garry continually attends and organises continuing professional education events.
Areas of Special Interest
Rehabilitation
Trigger Point Therapy
Cupping
Sports Injuries
Exercise Therapy
Pregnancy Massage
Qualifications & Affiliations
Diploma Health Science (Remedial Massage) – TAFE NSW
Certificate IV in Fitness – TAFE NSW
Member of AAM T #12522
AAMT National President and National Conference Committee Chairman
Registered Health Services Provider with WorkCover, Medibank Private, 3rd Party Insurers & all other major Health Funds