Back To Meet Our Team Page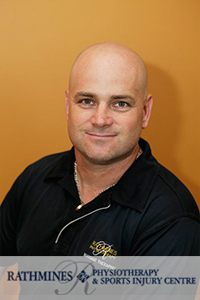 Remedial Massage Therapist, Exercise Therapist
Garry Lavis is a qualified Remedial Massage/Myotherapist, and has been treating clients in the Westlakes region of Lake Macquarie now for 18 years. Over that time Garry has worked hard to  established the Remedial Massage component of Rathmines Physiotherapy contributing to the multidisciplinary approach of the clinic.
Garry has a keen interest in Exercise and also has a personal fitness trainers' qualification, Garry has a vast experience in fitness having played Rugby League, Rugby Union, Tennis and competing in the Subaru Triathlon series in Canada for 4 years. Garry's current sporting interests are Scuba Diving and Mountain Biking.
Garry has an extensive knowledge of the massage industry having been the National President of the Australian Association of Massage Therapists (AAMT) for 4 years and a National Board member for 8 years. Garry is also the current Chairman of the National Conference Committee for MMA (Massage and Myotherapy Australia) and has held that position for 15 years. He plays a pivotal role in the organisation of Australia's largest Massage industry conference every year. Garry is also one of Australia's most recognised trainers and presents Advanced Workshops in both Capital cities and regional areas annually. Garry has also presented previously at International Conferences in both Canada and New Zealand.
Garry's areas of special interest are –
Sport and workplace Injury rehabilitation.
Myofascial Needling.
Myofascial Cupping.
Triggerpoint therapy.
Remedial Maintenance Massage.