Back To Meet Our Team Page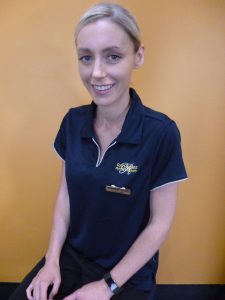 Sarah graduated from The University of Newcastle in 2016 with First Class Honours in a Bachelor of Physiotherapy.
Having completed an Honours thesis focusing on the impact of chronic pain on functional movement, Sarah understands the debilitating effect pain can have on both athletic performance and quality of life. She is passionate about understanding your goals and working with you to ensure both a safe and effective recovery and a return to peak performance.
When she isn't seeing patients, Sarah enjoys hiking, Pilates and other outdoors pursuits. She is currently in training to complete her first half marathon in May.
Areas of Special Interest
Neck pain
Biomechanics
Sport injuries
Chronic pain
Hydrotherapy
Qualifications and Affiliations
Bachelor of Physiotherapy (Honours) – University of Newcastle
Registered Physiotherapist AHPRA
Australian Physiotherapy Association Member (APA)
Member of Continence Foundation Australia