By Karen Burns Physiotherapist
SOME LIFTING METHODS ARE HARMFUL
Some methods of lifting are more harmful than others. The straight leg or stoop lift method (where your back is bent) causes more harm to your back. It is bad for you. People tend to use the straight leg or stoop lift because it feels a lot easier and requires less energy than squatting. The problems with the straight leg or stoop lift include:
High compression forces on the lumbar disc 
All the load is on the spine, which has only small muscles 
Increased force on the spine when the load is held away from the body 
The lumbar ligaments are under extreme strain.
THE SEMI-SQUAT LIFT – Best option for lifting low lying objects
The semi squat or inclined trunk with bent knees is now widely accepted as the preferred approach to lifting items from low levels. This approach aims to be flexible in different lifting situations and uses the following patterns of movement:
The spine is in or close to its normal shape, as in standing – The knees are moderately bent (flexed), within the mid-range
The trunk is inclined forward to grasp the load 
Feet are apart, either forward/back or sideways 
Shoulders are aligned 
The load is held symmetrically with an even distribution of the load on the left and right sides of the body
The load is held close to the body
The hips and knees work smoothly together to lift and lower the load.
Supporters of the semi-squat claim it provides the best stability, power, endurance, vision and adaptability for the user.
 Other solutions
Consider putting handles on the load. E.g. tie branches/tree limbs together and tie a handle to it. 
Make loads more compact 
Try not to store heavy items on the floor, but rather at waist height. E.g. think about where you store bags of potting mixture.
KEEP THE LOAD CLOSE TO THE BODY
This is important. Consider changing into old clothes or putting on overalls to allow this. Wear gloves.
MAKE SURE YOUR PATHWAY IS CLEAR.
ASK FOR HELP, ACCEPT OFFERS OF HELP.
Use team lifting for heavy and/or bulky items.
PACING
You are less likely to injure yourself if you space out your activity such as heavy lifting or bending and twisting for prolonged periods. Doing it all at once, can be too much load for your body. A sudden, prolonged intense session of gardening or spring cleaning will not make you fitter, it is likely to cause an injury.
Instead plan several shorter sessions over a number of days, or several sessions with breaks in one day. Resist the temptation to just keep going and get it all done. Take a break. Timed sessions work better than thinking of getting that whole garden or spring cleaning done before you rest. Consider instead of gardening or cleaning for one hour, then take a break, even is that section is not finished.
KEY POINTS 
Keep load as close to body as possible. 
Slightly bend knees and use leg muscles 
Bend back as little as possible 
Pace your activities 
Maintain your physical fitness
PHYSICAL FITNESS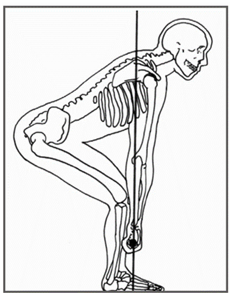 LONG TERM: Maintain your physical fitness and flexibility. Aim for 30 min daily moderate intensity exercise or 150 min/week. Regularly stretching can help maintain your flexibility.
Our physiotherapists are happy to advise you on suitable stretches, exercises or back care. To book an appointment today please call 4975 1622.