The festive season can be a challenge to your physical, mental and financial wellbeing. Here are a few tips to help you survive. 
Eileen Lavis – Continence and Pelvic Floor Physiotherapist
Don't let travelling with continence issues deter you in the festive season.
Choose clothes in dark colours (to disguise any leakage) that are easy to remove and comfortable to wear (elastic waists, track pants or longer loose fitting tops).
For car travel within Australia, planning your toilet stops can ease anxiety. The National Public Toilet Map (www.toiletmap.gov.au) is a great resource.
If you have a leakage problem, but usually manage without pads, taking absorbent  pads or pants on your journey might be a good temporary measure – travelling can put extra stress on the bladder and bowel.
Karen Burns – Continence and Pelvic Floor Physiotherapist
Eat well – 30gms of fibre per day. Add legumes such as 3 bean mix to your salads. Baked beans go well with your fried ham for breakfast.
Drink well – 1.5-2 litres of fluid, more is needed if it is hot and / or you are exercising. Water is your best choice. Have a cold glass of water between alcoholic drinks. Take care not to drink too much caffeine or alcohol.
Exercise – 30 minutes daily. Exercise can be accumulated in bouts as short as 10 minutes. When catching up with friends and family choose active things to do together instead of just sitting and chatting. A good choice is to go for a walk together or a swim if it is hot! Don't forget sun protection.
Alex McGeoch – Physiotherapist
Look after your Neck!

– Avoid front sleeping as you toss and turn on those hot nights. Front sleeping locks the neck into end-range rotation which will leave you stiff and sore.
Take your own pillow with you when going to visit family and friends over the festive season.
Use good form (bend knees, keep back straight and hold load close to the body) when performing those manual chores you don't have time for all year.
 Karen Rolfe – Lymphoedema Physiotherapist
 If you can't take your own pillow away with you and the pillow you 
 et is too low. Fold a towel into 3 or 4 and slip into the pillow case under the under the pillow, this make the pillow a little higher and firm. Also you can roll a towel and slip into the pillow case under the pillow at the front edge to provide neck support.
Drinking too much alcohol diminishes muscular control which can increase muscle and joint pain. It also depletes Vitamin B in the body increasing muscle and nerve pain. Take a Vitamin B complex if this happens.
Don't chew ice or hard foods. It can chip the enamel on teeth but can also lead to jaw joint problems
Drinking too much and ending up asleep in one position for too long lying on one side can lead to a loss of ear crystals in the ear you are laying on and can cause vertigo.
Many will receive books or e-readers for christmas. Read sitting with good posture with the book and arms supported or you will may develop neck pain or a headache. Reading in bed may do the same.
Jacqui Eaton – Lymphoedema Physiotherapist
Remember to pack your compression garments, moisturiser, insect repellent, sunscreen, antibiotic script (if you have one), donning / doffing aids and massage chart while visiting family and friends or on holidays.
Ladies with lymphoedema; over the warmer months, you may prefer to wear JOBST Ultrasheer compressions socks or stockings. Ultrasheer provide elegant sheerness with added comfort in stylish colours (they look like ordinary panty hose!) Ask your lymphoedema physiotherapist if these are suitable for you.
Scott Higgs – Physiotherapist
The average person consumes between 4000 and 7000 calories on Christmas day. This equates to roughly 780 minutes of running or many days of backyard cricket to burn those calories off. Remain active over the festive season to avoid adding those extra pounds which can effect degenerative knees and backs.
Many weekend warriors decide christmas and the new year are the perfect time to return to your favourite hobby or even take up a new activity. Be mindful that the body may not respond as well to activity as it once did. Ease back into exercise and gradually build the intensity of the activity to avoid unnecessary injury. Otherwise you may spend the first 6 weeks of the new year doing rehabilitation for a torn hamstring.
It is important when you are having fun at the beach to be mindful of the conditions both in and out of the water. Wear protection from the sun and swim between the flags.

Garry Lavis- Remedial Massage Therapist
For people like myself who have loads of children Christmas time can be very intense. Be sure to stay well hydrated by having a glass of water between every alcohol based beverage.
Having a spa can be a great alternative for a massage over the festive break. The New Year will arrive shortly and we will return to work again so take advantage of the break and rest up.
  Kylie Halloran- Remedial Massage Therapist
The festive season is a great time to get out and enjoy a wide range of games and activities whether it's with the kids or with friends.  However, the more adventurous the activity the more prone you are to those next day aches and pains, known as DOMS or Delayed Onset Muscle Soreness.  The best aid for DOMS is applying an ice pack to the aching area.  But be warned, there are a few major tips to stick by when applying ice packs to the skin.
  Immediate application is important, preferably within the first 24-48 hours.  The effectiveness of the ice diminishes significantly after 48 hours.
Ensure the ice pack is wrapped in an hand towel or pillow case.  Something that is thin enough to feel the cold through.  Ice packs that are not wrapped can cause the skin to burn, resulting in frostbite.
Apply the ice pack to the affected area for 20 minutes maximum.  Allow an hour before re-applying. 
 Karen Cater – Remedial Massage Therapist
 Dashing through the week,
In a rush before Christmas day,
Work, kids and life.
Gee, those aches and pains!!!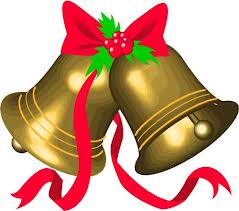 A quick stop to our clinic,
For those aches to fade,
To relax these weeks away.Why not have a massage,
 So remember to do your stretch,
With a massage to combine.
And when you go to wet the head
Add water with that wine, HEY.
 Greg Cowley – Remedial Massage Therapist
 Water
Water
Water
Water before you socialise
Water during socialising
Water after socialising
 James Pascoe – Podiatrist
 Credit cards and wallets are not the only victims of Christmas shopping expeditions. Feet often take an unnecessary pounding during the annual December retail madness.  Shoppers need to wear appropriate shoes to avoid the common Christmas moan of "my feet are killing me". Here are a few tips to help with those aching feet.
 Avoid thin soled shoes.                                                                                                                           Check the soles of your shoes. It needs to be thick and cushioned. A general rule of thumb is that you should be able to compress it approximately one third of the thickness.
 The upper of the shoe should be supportive with a firm fit. A holding mechanism like a strap or buckle is also preferable.
Studies have shown that walking on hard and unyielding surfaces for long periods will cause the calf and hamstring muscles to tighten, and this can be a major source of foot pain. So it's advisable to stretch these muscle groups before and after a shopping expedition. Please see the diagrams below for some useful exercises.
 If foot pain continues, you may wish to consult a Podiatrist.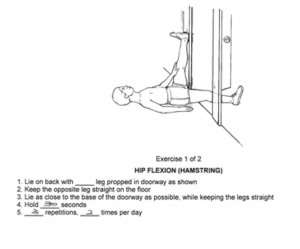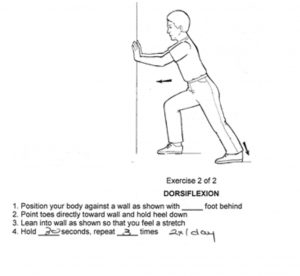 Happy Shopping!
Pennie Jones – Dietitian
  Food ideas for surviving the festive season:
Christmas is a time to relax and unwind, but doesn't have to mean loosening the belt buckle! Even though most festivities over this time do revolve around food, there are a few key tips to enjoy the celebrations without overindulging.
A few tips to avoid gaining those extra kilos over the silly season:
 Don't go to parties on an empty tummy.
 Be mindful of finger food – keep a mental note of the nibbles you have eaten. Try drinking a glass of water between each snack.
Choose smaller portions – there's no need to pile up the plate at every event!
Fill up on the good stuff, but do enjoy small tastes of the not so good stuff.
Avoid the deep fried foods where possible.
Limit soft drinks and cordials, choosing water mostly.
And if all else fails and you do overindulge – compensate with an enjoyable, long, moderate paced walk the next morning.
Elizabeth Seysener – Social Worker
 Stress management tips for the holidays:
 The decorations are in the shops and the catalogues are clogging your letter box.  You find yourself saying "I'm not ready for this stuff" or worse "I hate Christmas".  At this time of year anxiety levels often pick up with the round of parties, shopping, decorating, cleaning, cooking and relationships get more intense.
 For each person the holidays mean something different but working mothers and those on tight budgets are especially vulnerable.  Part of the cringe can be due to our own expectations especially if they are fuelled by memories of times past, good and bad.  The pressure of perfect gifts, perfect meals and perfect gatherings can get out of hand and getting together as adults can often be a letdown.  
 Some tips to survive the holiday countdown:
 Keep it simple.  Pace yourself and your expectations and say

NO

when you have to.
Remember every time you say yes, something else has to give. Be prepared to live with your choices.
Figure out what is really important to you and control your need to keep up with the Joneses, including David Jones.
You don't have to do it all.  Ask for help and accept it when it is offered – stay clear of the guilt.
Watch for signs of stress – getting irritable, anxious, depressed, not sleeping or eating properly, running out of time.  Step back and re-evaluate what's important and what you let go.
Talk to someone you can trust.  Someone else's opinions can help put things into perspective. 
When things feel overwhelming stop and take a few really deep breaths.
Lisa Walton – Practice Manager
Most health funds have an anniversary date please check when your benefits expire with your health fund to ensure you get the most out of your benefits. Please note your benefits will not carry over to the next year.
Sheena Lumsden – Receptionist
If you are moving house over the festive season please advise reception of your new contact details.
Allegra Vile – Receptionist
If you get a mobile for christmas make sure you update your contact details so you can receive appointment reminders and special offers.
All the staff at Rathmines Physiotherapy and Sports Injury Centre wish you a safe and happy holiday season.
If you have any questions regarding the inform
ation or would like to make an appointment please do not hesitate to contact the clinic on 4975-1622.