Prostate Cancer in Australia
ž1 in 9 men in Australia will develop prostate cancer.
Almost 3,300 men die of prostate cancer per year, which is similar statistics to breast cancer  in women.
20,000 new cases diagnosed yearly.
The medical treatment of prostate cancer can include any of the following either alone or in combination:
ž  Active surveillance
Radical prostatectomy
External Beam Radiation Therapy
Brachytherapy
Androgen Deprivation Therapy
Chemotherapy
Unfortunately side effects of these treatments can result in a reduced ability of the pelvic floor muscles to function optimally.
Where are the Pelvic Floor Muscles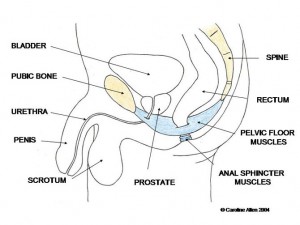 The pelvic floor muscles arise at the pubic bone and extend back to the tailbone and out to the sides to the ischial tuberosities or "sitting bones". They form a hammock or sling to support the pelvic contents. 
What is the role of the Pelvic Floor Muscles?                                            
ž  Maintain urinary continence
Inhibitory effect on the bladder
Faecal continence and rectal support during defaecation
Support abdominal contents
Active during intercourse to allow for erectile function
Active during breathing
Assist posture and active in activities of daily living
Signs and Symptoms of Dysfunctional Pelvic Floor Muscles
Men may experience any of the following symptoms if the pelvic floor muscles are not functioning optimally.
ž  Urinary incontinence
Urinary frequency and urgency
Faecal incontinence and urgency or poor control of flatus
Difficulty emptying the bladder or bowel
Erectile dysfunction
Pelvic pain
How do you know if your pelvic floor muscles are working effectively?
A Continence and Pelvic Floor Physiotherapist is a Physiotherapist with post graduate training in continence and pelvic floor rehabilitation. At Rathmines Physiotherapy and Sports Injury Centre there are two Continence and Pelvic Floor Physiotherapists, Eileen Lavis and Karen Burns. Eileen and Karen conduct an initial assessment which is an hour long. In this appointment a thorough subjective or verbal history is taken. Following this an objective examination is performed with the consent of the client. A digital rectal examination allows for accurate assessment of muscle strength, endurance, correct contraction technique and co-ordination of the contraction. Additionally at subsequent appointments an ultrasound assessment of pelvic floor muscle function may be conducted. Ultrasound imaging is safe and non-invasive. Studies show that ultrasound imaging has good reliability and correlates moderately with the digital rectal examination for men who have had treatment for prostate cancer. It is essential that a thorough assessment is completed as some studies have shown that men who partake in educational programmes with written information and DVDs only still perform the pelvic floor exercises incorrectly. 
Is Continence & Pelvic Floor Physiotherapy effective in the treatment of male pelvic floor dysfunction?
ž  Up to 34% of men who have had prostate surgery report incontinence 1 year later.
Research shows that pelvic floor muscle exercises before prostate surgery improves continence outcomes.
Performing pelvic floor muscle exercises after prostate surgery is vital to your recovery as it is these muscles that help you control your bladder.
About 80% of those with incontinence can be cured or improved by seeing a Continence and Pelvic Floor Physiotherapist.
Incontinence and pelvic pain can be treated with Physiotherapy.
Pelvic floor exercises should be the first line of treatment for incontinence.
Studies show the best programme is one that is individualised, monitored and progressed by a Continence and Pelvic Floor Physiotherapist.
Co-morbities must be factored into any continence and pelvic floor physiotherapy programme such as the management of constipation, obesity and chronic coughs to reduce the repeated strain on the muscles.
All age groups can be treated.
For any programme that addresses the dysfunction of the pelvic floor muscles the man has to be an active participant to achieve optimal outcomes.
For more information please do not hesitate to contact Eileen Lavis, Karen Burns or Reception on 4975-1622.
 References:
Martin, M – Why Physiotherapy Pre Prostatectomy? – 12th Australasian Prostate Cancer Conference, Melbourne, 2011
Clinton, Osmotherly, Chiarelli, 2009 – Calvery Mater
Nahon I, Waddington G, Adams r and Dorey G (2011) Assessing Muscle Function of the Male Pelvic Floor using real time ultrasound.
Morkved S, Overgard M, Lydersen S, Angelsen A. Does pelvic floor muscle training with follow-up instructions by a Physiotherapist reduce urinary incontinence after radical prostatectomy? – A randomised controlled trial
Parekh AR, Feng MI, Kirages D, Bremner H, Kaswick J, Aboseif S. The Role of Pelvic Floor Exercises on post-prostatectomy incontinence. J Urology, 2003 Jul; 170(1):130-3.
Prostate Cancer Foundation website, 2012
Continence Foundation of Australia website, 2012