Sarah D'arcy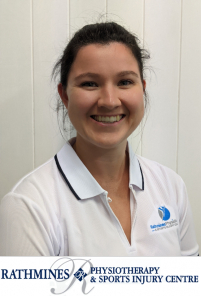 Sarah grew up in the local area of Wangi Wangi and Toronto, before moving to Orange, NSW to complete her physiotherapy degree. After which she moved to Sydney where she worked in the public hospital system as well as private practice.
Sarah is a passionate physiotherapist who graduated with distinction. During her time in the hospitals, Sarah gained experience in orthopaedic, fracture clinic, medical, respiratory, musculoskeletal, rehabilitation, hydrotherapy, emergency department, intensive care and women's health physiotherapy.  Sarah's experience in private practice has also been diverse, covering all areas of musculoskeletal physiotherapy, including dry needling.
Sarah has also undertaken further training in the area of women's health, driven by her passion in this area of physiotherapy.  Sarah is a committed physiotherapist and is always looking for opportunities to expand her knowledge to grow as a clinician. Sarah is highly ambitious and applies herself in all areas of work and life. She is driven by her desire to become a go-to physiotherapist by providing the best care to all of her clients to achieve positive outcomes. Sarah enjoys staying active, being outdoors, and socializing. Sarah enjoys new experiences and is always willing to try new things. Sarah believes you can achieve anything if you put your mind to it and are willing to put in the effort.
Areas of Special Interest:
Orthopaedics
Musculoskeletal
Hydrotherapy
Women's health