Ring Reception 4975-1622 now to book your spot for Term 2!
Wed classes start 27/4/22. Monday Classes start 2/5/22
(no class on Anzac Day, or June long weekend Mon)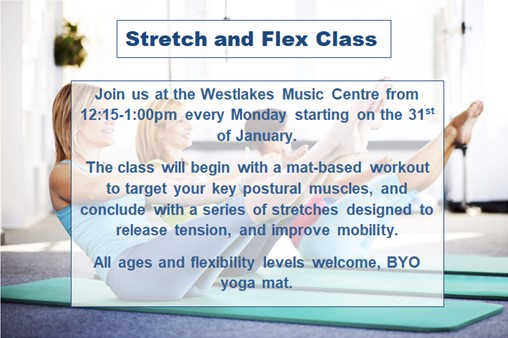 Stretch and Flex
Mondays from 12:15-1pm
Roll out your yoga mat and join us for our Stretch and Flex class – designed to improve your flexibility, posture, range of motion and core control.
This class will include a pilates-based mat workout to target your key postural muscles, as well as a series of stretches to relax your body and release your tension.
This class is appropriate for all levels of flexibility and fitness, although you must be comfortable getting up and down from the ground.
A yoga/fitness mat is required for this class – BYO or available to purchase from Rathmines Physiotherapy reception.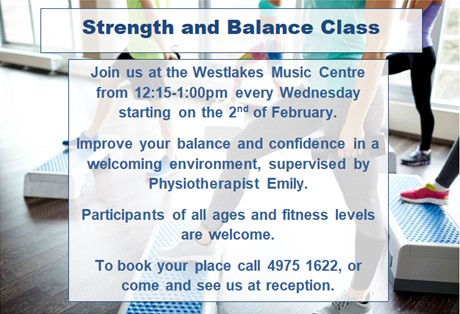 Strength and Balance
Wednesdays from 11:30 am-12:15 pm or 12:15 -1pm
Join us for a small group circuit class designed to improve your strength, balance and confidence with exercise.
Participants will rotate between different exercise stations which have been specifically chosen to improve mobility and strength in a fun and functional way.
All classes are supervised by a physiotherapist and can be modified to cater for people of all ages and fitness levels.
No equipment is required other than comfortable clothes and enclosed shoes and a willingness to have fun!
Class details
Dates: Term 2
27/4/22 to 29/6/22 (Wed classes- 10 wks);
2/5/22 to 27/6/22 (Mon classes- 8 wks for Term 2)
Location: Westlakes Music Centre (13 Stilling St, opposite the shops at Rathmines)
Cost: $250 for 10 sessions* $200 for 8 sessions (Mon class only, due to 2 public holidays- Anzac day and June Long weekend)
Registration: Call Reception on 4975-1622 now
*physio-led group exercise classes are covered by some health funds.